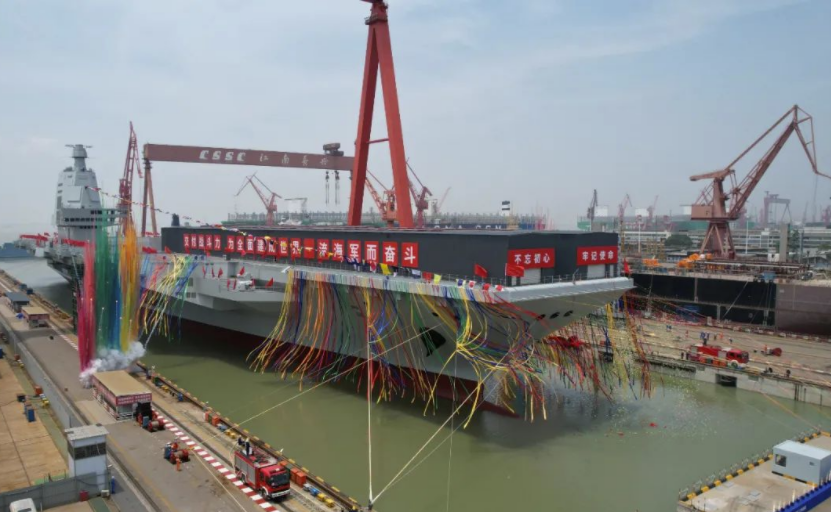 Xu Qiliang attended the launching ceremony
The launching ceremony of China's third aircraft carrier was held on the morning of the 17th at the Jiangnan Shipyard of China State Shipbuilding Corporation. Xu Qiliang, member of the Political Bureau of the CPC Central Committee and vice chairman of the Central Military Commission, attended the ceremony.
At about 11 o'clock, the launching ceremony began, the audience sang the national anthem of the People's Republic of China, and the five-star red flag was slowly raised. Xu Qiliang awarded the naming certificate to the chief officer of the receiving unit, and jointly cut the ribbon for the launch of my country's third aircraft carrier with military and local leaders. Afterwards, a bottle throwing ceremony was performed. The champagne bottle hit the ship's bow and shattered. The ship blew its whistle, the dock door opened, and the aircraft carrier slowly moved out of the dock and docked at the dock. The launching and naming ceremony ended with the singing of the Chinese People's Liberation Army.
Approved by the Central Military Commission, my country's third aircraft carrier was named "Fujian Ship of the Chinese People's Liberation Army Navy", with the hull number "18". Fujian ship is the first catapult-type aircraft carrier designed and built by my country completely. After the ship is launched, mooring tests and sailing tests will be carried out as planned.
Leaders of the navy and China Shipbuilding Corporation Dong Jun, Yuan Huazhi, Lei Fanpei, Yang Jincheng, as well as leaders of relevant military and local departments, cadres and workers of naval research and production units, and representatives of army officers and soldiers attended the ceremony.